Juniors
The Coromandel Cricket Club currently fields five sides in the South Australia Junior Cricket Association with teams in the Under 16s, Under 14s, Under 12s, and Under 10s. The club also runs a successful Milo-into-Cricket program aimed at developing the skills of young cricketers aged 5 to 8 years of age.
Depending the age range, games are either 1 day or 2 day games with modified rules to the age grouping to ensure that all players have the chance to participate in the game. Matches are usually played on Sunday morning's beginning at 9am. The season consists of 9 minor round matches with only the Under 16s and 14s playing for premiership points. At the end of the minor rounds, the top two sides quality for a Grand Final.
Trainings are held on various nights depending on the age group. These are all held at Hewett Sports Reserve and follow as:
Under 16s – Wednesday from 5.30pm
Under 14s – Wednesday from 5.30pm
Under 12 – Day and Time TBA
Under 10 – Day and Time TBA
Milo-Into Cricket – Thursday (Time TBA)
For a list of junior coaches, click here
Head over to our blog for the latest news, match reports and social events for the senior cricket in season 2017/2018.
Cricket Australia, MILO and Coromandel Cricket Club have teamed up to deliver a program that is both healthy and fun for all those who take part in it.
The MILO in2CRICKET program offers children 5 to 10 years the opportunity to kick start their cricket career, learn lots of new cricket skills like batting, bowling, catching and throwing, as well as social skills allowing them to make new friends and most importantly - HAVE FUN!!
Participants will receive a structured 8-12 week program conducted by trained Coromandel Cricket Club coordinators.
The emphasis of the MILO in2CRICKET program is on fun and involvement. The program is designed to give boys and girls a chance to take part in a variety of activities to develop their cricket skills, physical fitness and social skills, sportsmanship and an understanding of the game.
Under 9 T20 Big Bash
T20 Big Bash is a program designed for children moving to the next level after participating in the Milo In2 Cricket program. Designed to be high action the kids are never standing still! Four games are running at one time, with two batting on one field whilst the rest are fielding in another.
Short format and high speed the kids are always in the action whilst participating in meaningful cricket games that keep them active whilst learning new skills and making new mates!
T20 Big Bash is held on Monday nights from 6pm – 7.30pm.
The program runs from Monday 12th November to Monday 10th December and restarts on February 4th and runs until March 1st.
Contact Matt Longhurst – PH 0412 486 096
Ull & U13 Cricket
This is where the kids get a taste of real cricket! Played on Sunday mornings from 9am – 12 noon, participants compete against rival clubs in one day matches and two day matches played over two weeks.
It is here that the kids develop mateship and camaraderie with team mates whilst developing their batting and bowling skills. Everyone gets a bowl and a bat whilst learning to master the game of cricket.
At Coromandel Cricket Club we offer a welcoming, fun and safe family environment where kids get active and improves fitness whilst making new friends. Both boys and girls are welcome to play.
Summer is just around the corner – what are you waiting for!!
Under 11 & Under 13 quick facts
Season starts on Sunday October the 13th
Training is Thursday 4 - 6
Contact Matt Longhurst – PH 0412 486 096
Phone
President (Rahsaan Oakey)
0432 836 521
Hewett Oval Clubrooms
(08) 8278 1173
Email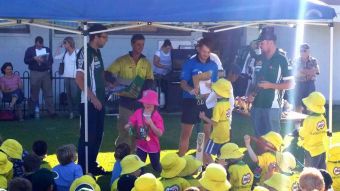 Get Involved!
If you are interested in sponsoring the continuation of the second oldest cricket club in Australia (seriously!)